Eight in one
Painting (woven): The most complicated process yet (with description in Danish):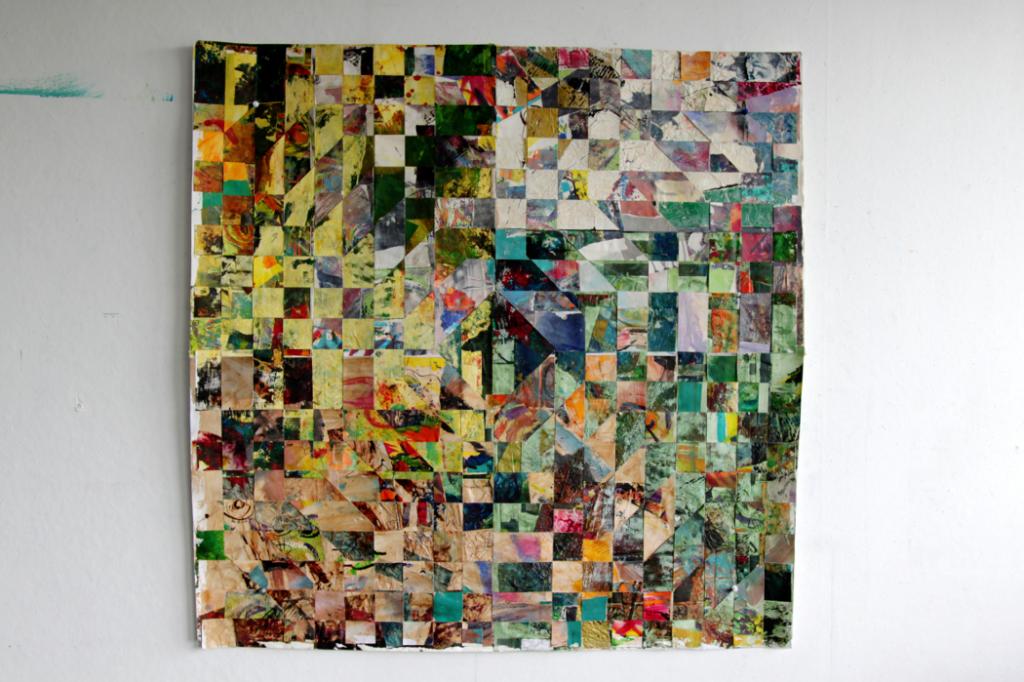 "Traces". Acrylics on interwoven manipulated paper (multiple layers). 2014. 100x100 cm.
Please read on...
This one was made in 2014. It was a pretty long process, but I have not translated the process desription into English yet.
Note: The photo (or the hanging) seems to be turned 90 degrees clockwise. The intended orientation is 90 degrees counter-clockwise relative to the photo.
Danish:
Otte forskellige collager, 4 a 60x80 og 4 a 80x100, bestående af iturevne kasserede malerier på papir fra egen hånd og fra andre kunstnere. Materialer er blæk, acryl, kul, permanent marker, pastel, silkepapir, serviet mm. på papir.
Hver af de 8 collager opløst i vand, sammenkrøllet, udglattet, lagt i pres og til tørring. Parvis er hver af de 8 collager derefter laseret med tempera i en af 4 forskellige farver. Herefter blandt andet betrådt af tilfældigt udvalgte personer, med og uden maling på skosålerne.
Derefter sat sammen 4 og 4 til to forskellige ark med hver 4 forskellige tempera-laseringer og beskåret til størrelse 100x100.
De to forskellige ark derefter skåret i specielt mønster og flettet sammen, samt limet.
Please comment