Ugly impermanence
Painting: Tribute to St:St:Blicher (1782-1848):
Jeg skulle sjunget lidt mer' måske -
Måske vel også lidt bedre;
Men mørke Dage jeg måtte se,
Og storme rev mine Fjædre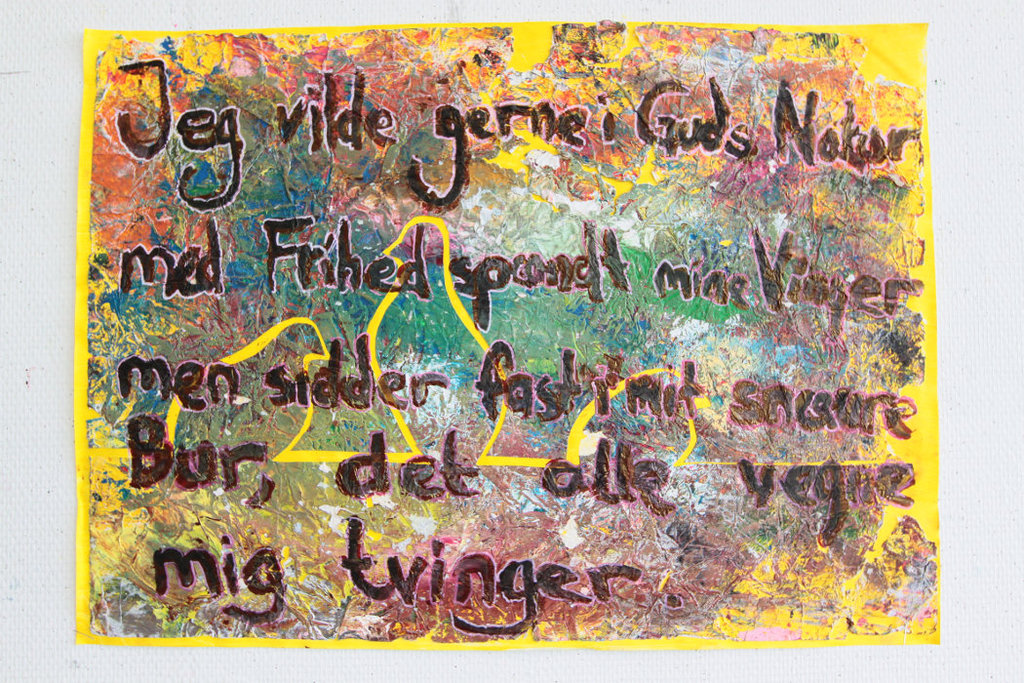 "Passing through I, II (ugly impermanence)", Blicher in memoriam (diptych).
Acrylics on manipulated heavy paper, cut in two (with figures) then mounted on acrylics on paper. Writing added in Acrylics, Indian Ink, Posca marker, and 3D marker. 2017. (2x) 70x50cm.
Jeg vilde gerne i Guds Natur
Med Frihed spændt mine Vinger,
Men sidder fast i mit snævre Bur,
Det alle vegne mig tvinger.
Long story...read on.
The lyrics on the paintings are two verses (verse 3 and 4) from the opening poem "Prelude" in the collection "Trækfuglene", written by Steen Steensen Blicher (1782-1848) and published in 1838.
The word "Trækfuglene" means: "The Migratory Birds". In this context it should be understood as a figure of speech, an illustration of the concept of impermanence. Still, every poem in this collection -- except "Prelude" and "Ouverture" -- has the name of a bird as its title.
The bird silhouettes that are cut out are not from migratory birds; rather, they are immigrant birds (they are pigeons). These pigeons have become naturalized here (Denmark). They immigrated from rocky/mountaneous areas of southern Europe, and nowadays they live here all year round in the glass-and-concrete "mountain ranges" that are our cities.
The writing/lettering is supposed to be "ugly", this is not an error (!). It is supposed to appear like it was just scribbled down as a quick "note to self". It is not intended to be pretty, particularly legible, or even close to calligraphy or formal lettering - it should be much closer to "vandalising the painting with grafitti". The spelling is proper, and according to standards from St:St:Blichers time period (uppercase nouns).
This is about impermanence. Impermanence may often appear as ugly.
These are not religious images. Their theme is valid for people (and other living beings) of all kinds and all beliefs, including none. As for St:St:Blicher, he was a Protestant Christian parson/priest besides being an author and poet. So, the origial text may well have been religiously motivated.
A few notes on process
These two started out as an experiment, inspired by this print. Tongue-in-cheek: If nothing else this serves as an illustration of the saying "it's never too late to ruin an otherwise fine painting", which -- again -- is a fine illustration of impermanence.
I found it hard to create these two paintings, as they had to relate to the verbatim words of the poem as well as the general theme of impermanence. This theme can be found in all kinds of "events"; from birds leaving in autumn and returning in spring, to life and death. Hence there is also an element of memento mori to it.
The sentiments evoked here are generally not comfortable. There is even a Buddhist idea that "impermanence of the things we are attached to is the root cause of suffering" or "-the cause of all suffering". Hence, viewing the paintings should not be a comfortable experience. I hope I succeded at that.
---
Full lyrics
These are the lyrics to "Prelude" (in Danish):
Sig nærmer Tiden, da jeg må væk,
jeg hører Vinterens Stemme;
Thi også jeg er kun her på Træk,
og haver andensteds hjemme.
Jeg vidste længe, jeg skal herfra;
det Hjærtet ikke betynger,
Og derfor lige glad nu og da
på gennemrejse jeg synger.
Jeg skulle sjunget lidt mer' måske -
måske vel også lidt bedre;
Men mørke Dage jeg måtte se,
og Storme rev mine Fjædre.
Jeg vilde gerne i Guds Natur
med Frihed spændt mine Vinger,
Men sidder fast i mit snævre Bur,
det alle vegne mig tvinger.
Jeg vilde gerne fra højen Sky
udsendt de gladere Sange;
Men blive må jeg for Kost og Ly
en stakkels gjældbunden Fange.
Tit ligevel til en Smule Trøst
jeg ud af Fængselet titter,
Og sender stundom min Vemodsrøst
med længsel gennem mit Gitter.
Lyt og, o Vandrer! til denne Sang,
lidt af din Vej Du hidtræde!
Gud véd, måske det er sidste Gang
du hører Livsfangen kvæde.
Mig bæres for, som ret snart i kvæld
at Gitterværket vil briste;
Thi kvidre vil jeg et ømt Farvel;
måske det bliver det sidste.
Source: Wikisource
---
PS: The text mentions the word "Gud", which translates to "God" with a capital G. That is, the (Protestant-) Christian main/single deity ("God"). St:St:Blicher was an ordained priest and the words are his. I have selected that verse because the word in question is part of the expression "Guds Natur" (EN: "God's Nature"), which is a well known, albeit dated, Danish figure of speech meaning, basically, "nature" (as in "our physical surroundings" or, "that which is not made by humans"), and elevating said nature to a level above the human realm. As such the expression bears significant meaning to Christians and others alike, even if non-Christians may have no particular relation to the "God" concept.
Please comment