Bicycle board
Wood carving (preview): Pretty large coloured wood carving: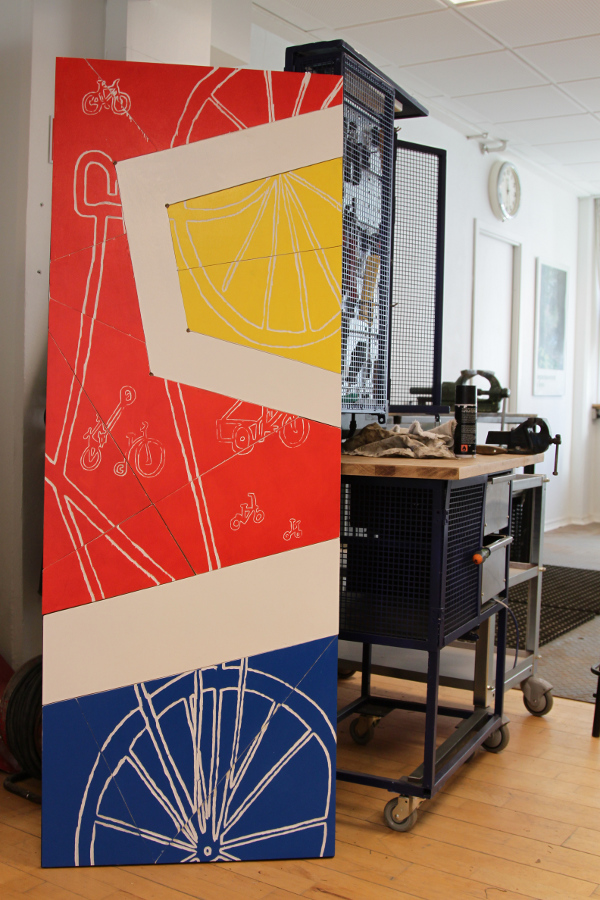 Untitled (wip). Woodcut relief/wood carving, coloured. 2014-15. 60x200 cm.
This is a group effort, read on ...
The theme of this woodcut relief is bicycles. It is intended as a back plate for a sort of a "mobile tool cabinet" on wheels - narrow and tall, and made of metal. This cabinet (seen behind the wood carving in the photo) is already in use in the bicycle workshop at Kofoeds Skole where, among other things, they fix bikes for people. It was created with the specific purpose of holding tools for bicycle maintenance.
The wood carving is intended for the backside of this tool cabinet. As it is a mobile cabinet it will most often be free standing. That could be indoor, outdoor, in a small room or in a large room.
So, the back side will be clearly visible most of the time. Not likely in full, as a workshop setting implies that all kinds of materials and machinery will occupy part of the field of vision, no matter where you place this thing.
The bright colours serve to make it easy to locate the tool cabinet. The cut up board ("puzzle") relates to the history of broken bikes becoming whole. Finally, the lines carved into the board are illustrations of different bicycle types - one very large one, and the rest very small.
My contribution was the line drawing (the design and arrangement of bicycles on the board). Twelve people made at least one design each, and after some rounds of discussion and at least one round of voting, this design was chosen. Others decided how the board was to be cut out, what colours were to be used, and which parts should have which colours. The cutting of the board into jigsaw pieces was done at the wood workshop at Kofoeds Skole. The line cutting, the painting, and the fixing of individual parts to a solid board was also a group effort.
The process started early 2014, as far as I recall. At least half a year was spent waiting while the (oil-based) colour of the individual parts was drying. At the time of writing this, the individual parts have been fixed to a solid board, and this board will (in near future, I hope) become attached to the mobile tool cabinet.
Please comment