Many chefs
Graphics / linoleum: Group effort: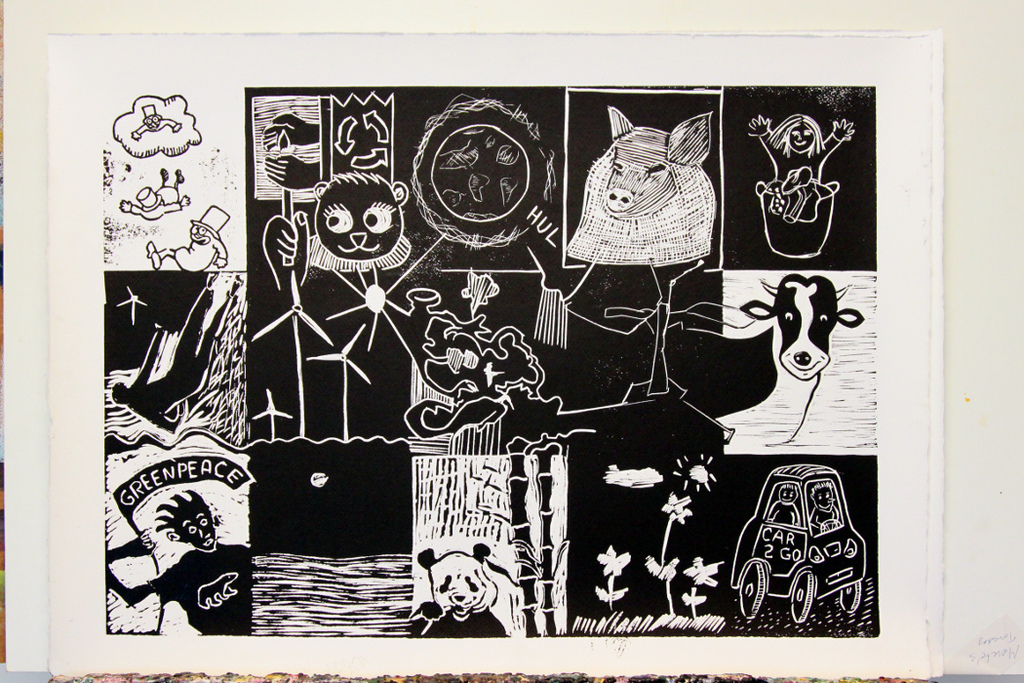 Untitled. Linoleum. 2015.
Two of the 15 fields were cut by me, guess which ones?
Hint: The theme was "sustainability": I chose the interpretation "recycling", creating a linoleum version of another artist's (well, two...) non-linoleum work.
Did you guess yet?
First row, first field (top left), and second row, last field (middle right).
Top left is "Three little men", a set of characters from the hand of late Danish poet, cartoonist "Storm P" (Robert Storm Petersen). These characters (along with a forth not pictured here) appeared in comic books by Storm P.
However, AFAIK, they never had a comic book of their own, in stead they appeared only in the bottom margin of another comic, hence creating a mini-comic-strip inside another comic having a different story and different characters. Using spare space in an innovative way is the link to sustainability here.
Middle right is a somewhat anatomically challenged cow from the hand of an unknown artist. It was an illustration on a carton of ecologic milk, and the artist had not been credited. Here, the link to "sustainable" is ecology.
Please comment