Portrait: Hans Christian Kofoed (wip - state 16)
Painting/portrait: Layered painting method. With process photos 2018-now
Note: This is work-in-process (unfinished).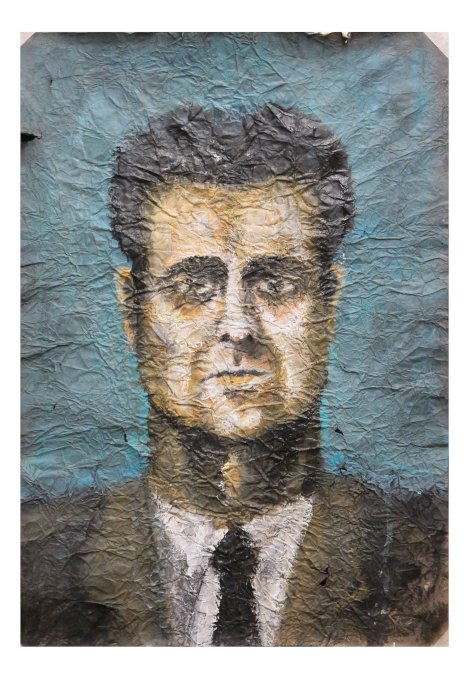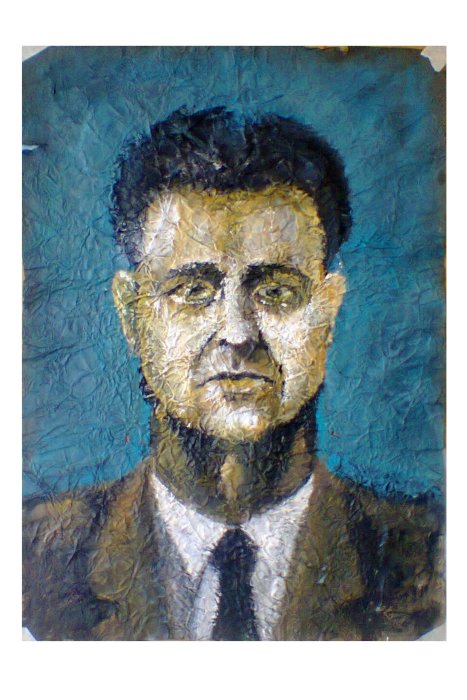 "Hans Christian Kofoed" (WIP) Left: previous state, right: current.
Acrylics on manipulated paper. 2018- (wip). Around A3 size.
While in state 15 I sacrificed similarity in order to get proportions more accurate, similarity is now again a priority as per version 16. I still expect to do a few states more before I'm satisfied. Read on for process photos and information ...
This is intended to develop into a portrait of Hans Christian Kofoed, the founder of Kofoeds Skole.
Process
The painting process started in 2018. Below some process photos. As this was started as an experiment with painting methods more than as a portrait many of these have really bad similarity to the reference photo.
For each state focus is on a few selected elements and everything else is ignored. Next state will then focus on something else, and so it continues. It is interesting to see that even as the majority of the picture is unchanged from state to state the general expression may still change fundamentally.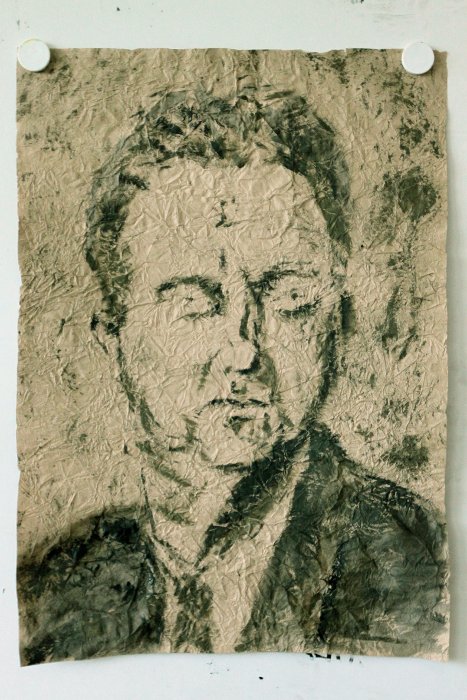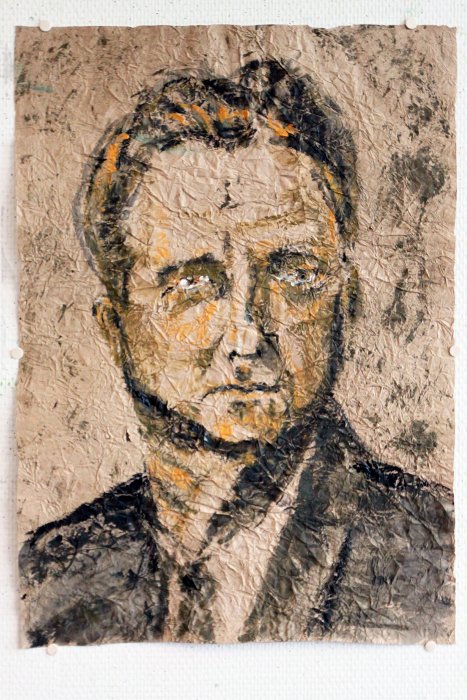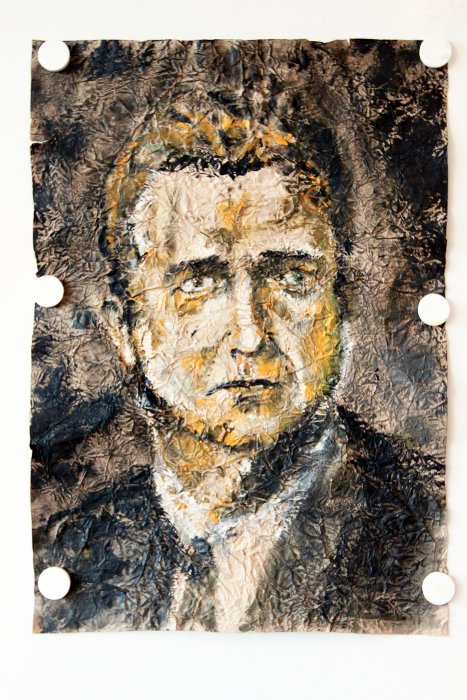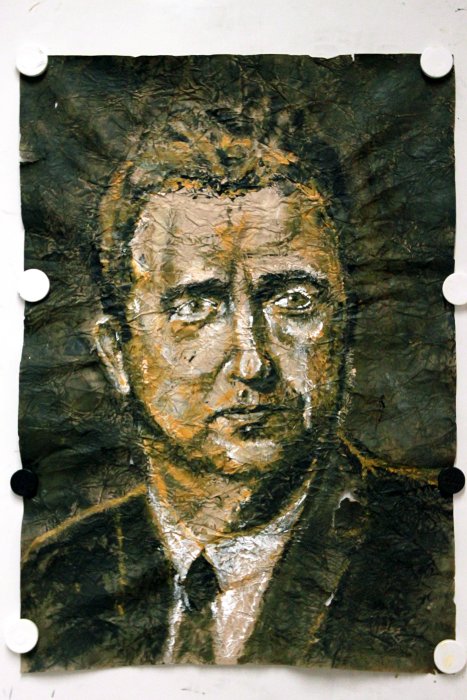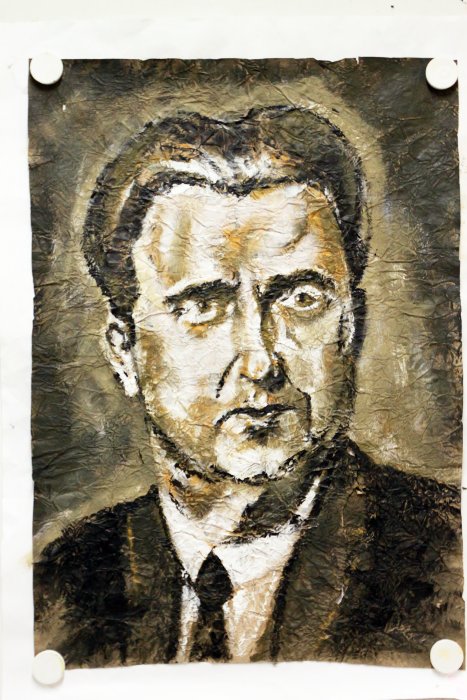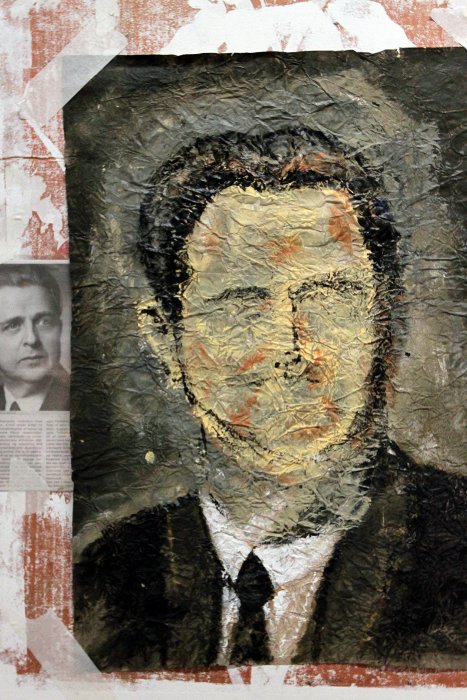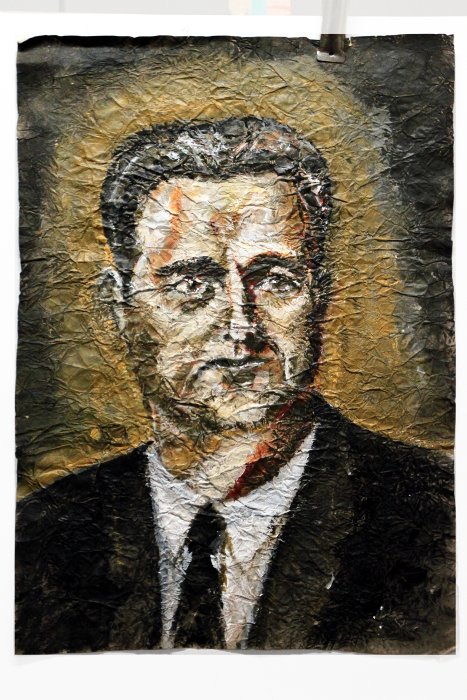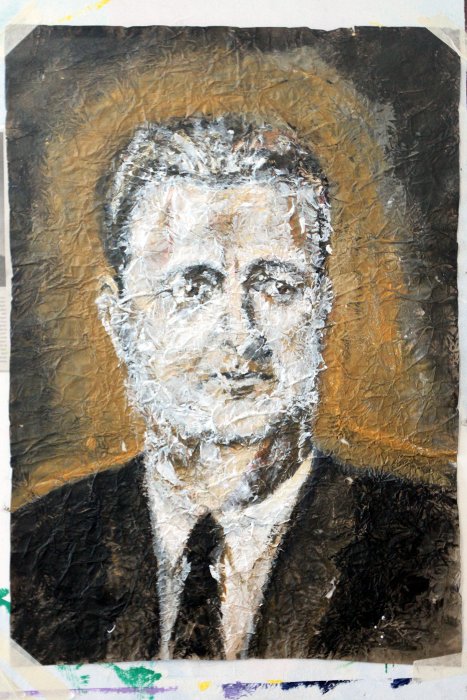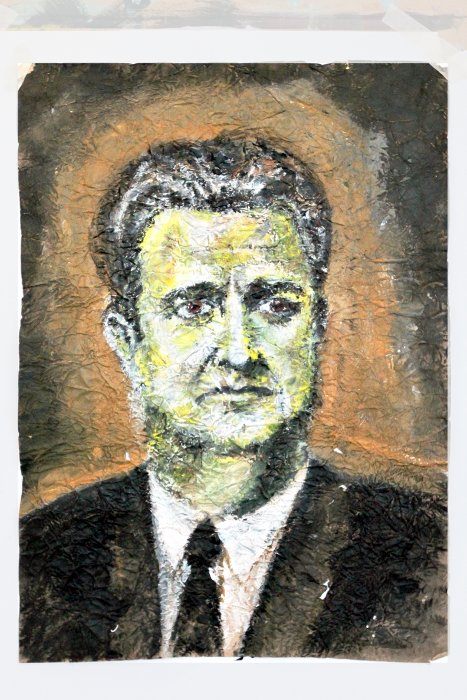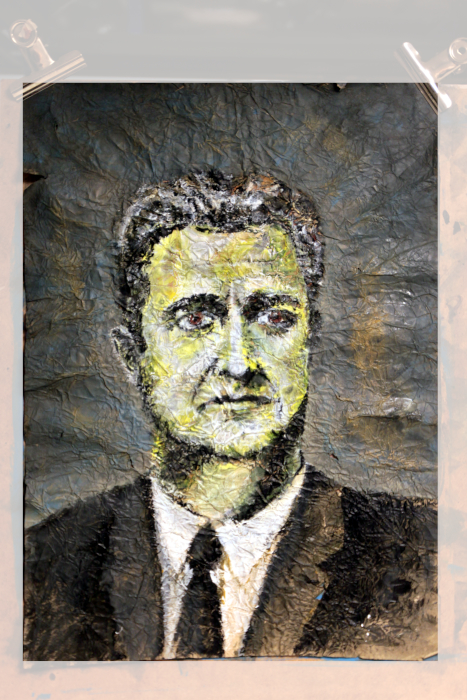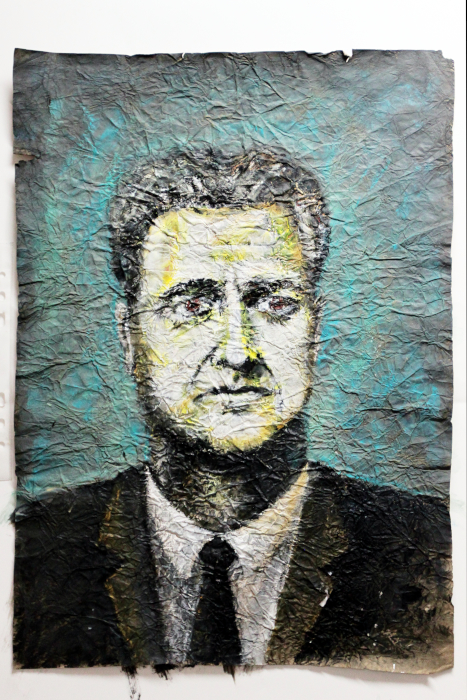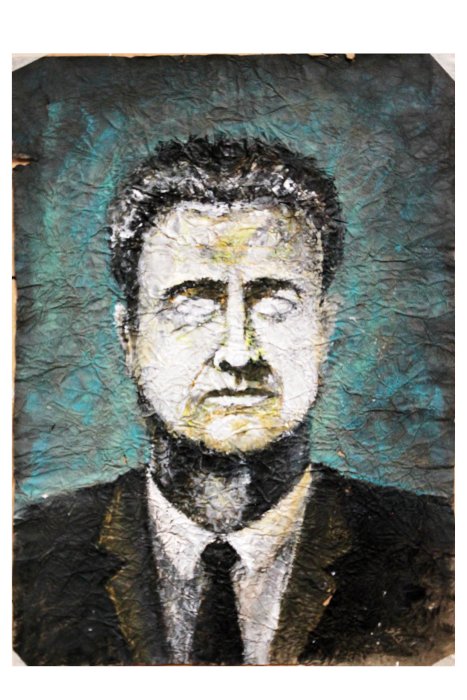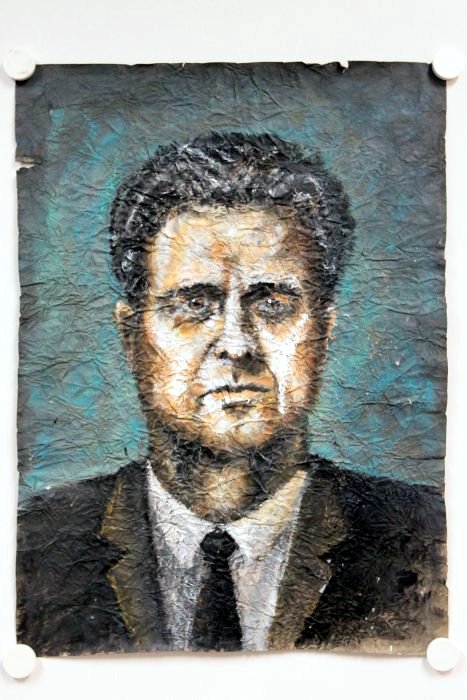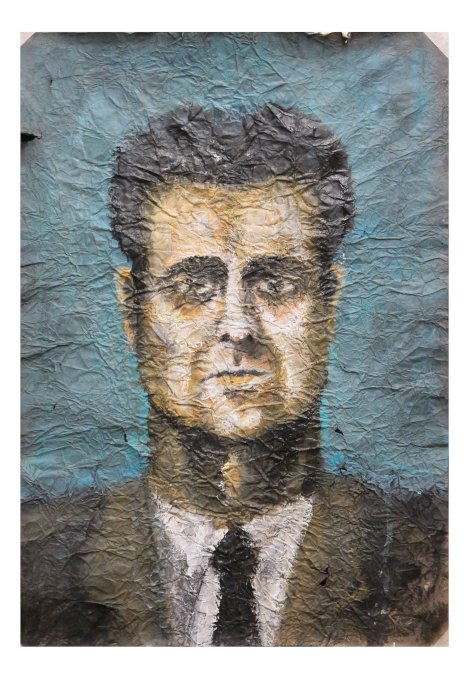 Process photos:
Top: state 1 (left), state 2 (middle), state 3 (right).
Row 2: state 4 (left), state 5 (middle), state 6 (right).
Row 3: state 7 (left), state 8 (middle), state 9 (right).
Row 4: state 10 (left), state 11 (middle), state 12 (right)
Row 5: state 13, state 14, state 15
State zero was a (very) quickly done watercolour sketch which washed away entirely during the initial manipulation of the paper (a process which involves plenty of water).
Reference
As my subject is no longer alive I had to base my portrait on a photo. For reference I used a bad quality reproduction of an official photo sourced from a local newspaper (see "state 6" -photo). The reference photo is small (smaller than DIN A5), cropped, unsharp, and dark relative to the original photo. Neither the original official photo nor the newspaper reproduction seems to be available on the internet.
Before starting on state 6 I accidentally discovered the original photo that my reference photo was based on. Here is state 5 with the original photo: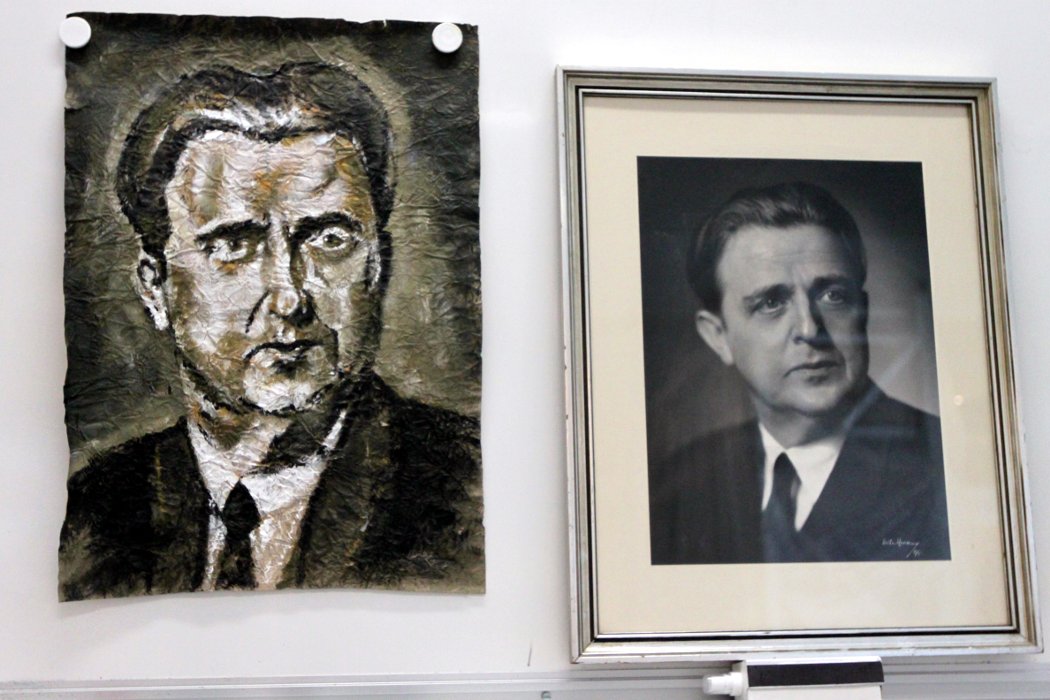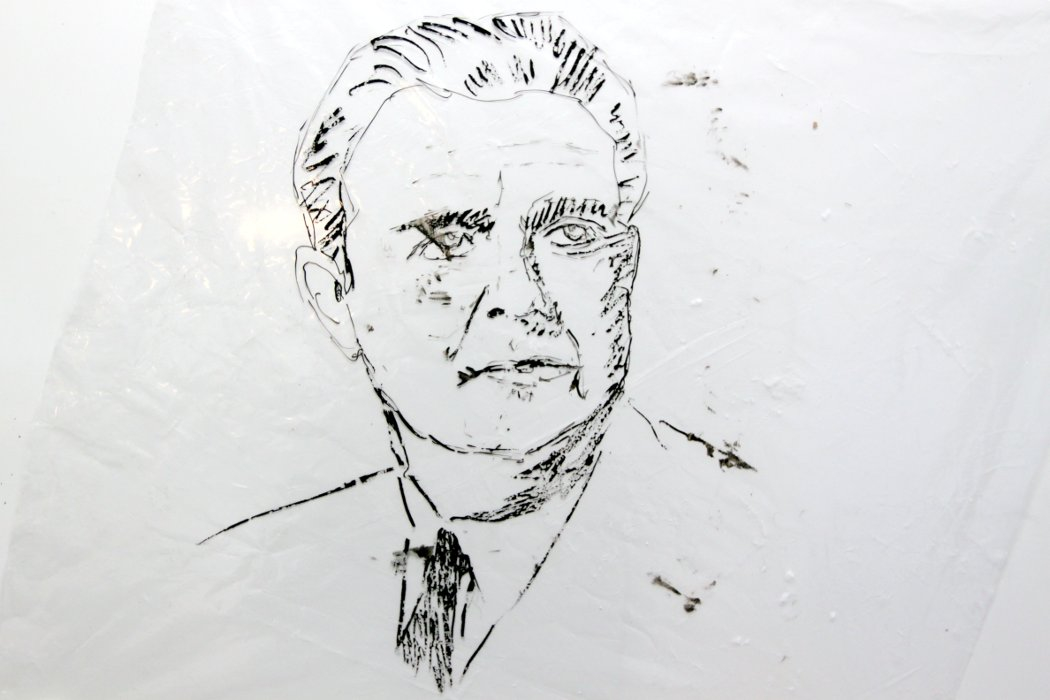 Top: State 5 and original photo
Bottom: Line-tracing of original photo.
I no longer know the whereabouts of the original photo. It has been moved from the location I found it, to somewhere unknown. I have not used "the original" for reference at all, I only used it for the photo with "state 5", and then put it back where I found it.
Relative to the reference photo (ie the small newspaper copy) I have changed the orientation of the head as well as the orientation of the upper body. Of course this means that I have to paint most of the portrait without being able to use the reference photo for reference. IOW I have to (1) guess what my subjects features would look like from the angle I intend to paint him. Also, I have to invent/imagine those parts of my subjects features that are not visible on the photo... These are two separate -- and not exactly simple -- tasks.
Please comment