Painting process - part II
Updated 2011.12.16, 2011.12.02, 2011.11.24, 2011.11.17, and 2011.11.10: Now 9 photos.
This is part two of the post Painting process (wip) with more step-by-step photos.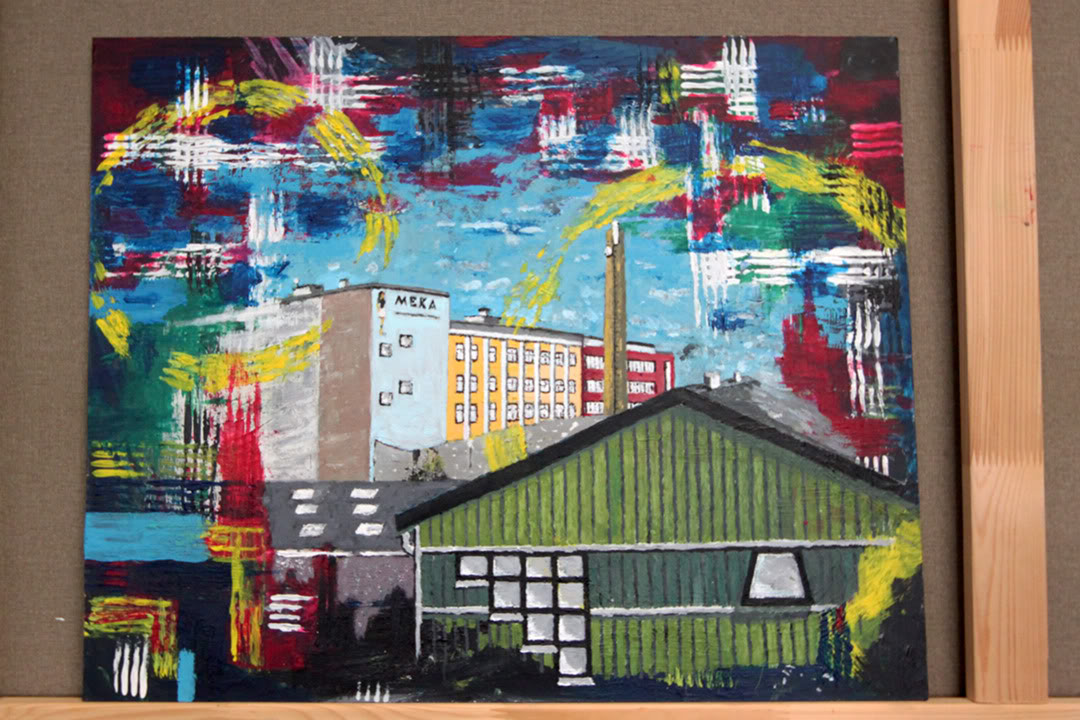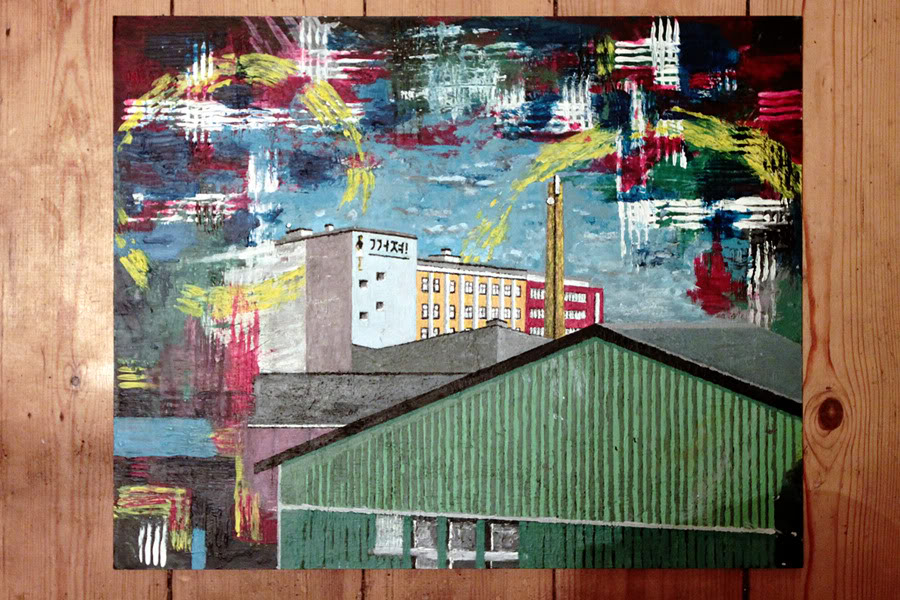 From this... to that. In 32 hours (wip)
Technical info: Acrylics on masonite, 50x40 cm. Using brush, plastic fork, sponge, paper napkins, fingers, paint knife, and pencil.
To start off, here is the painting as we left it: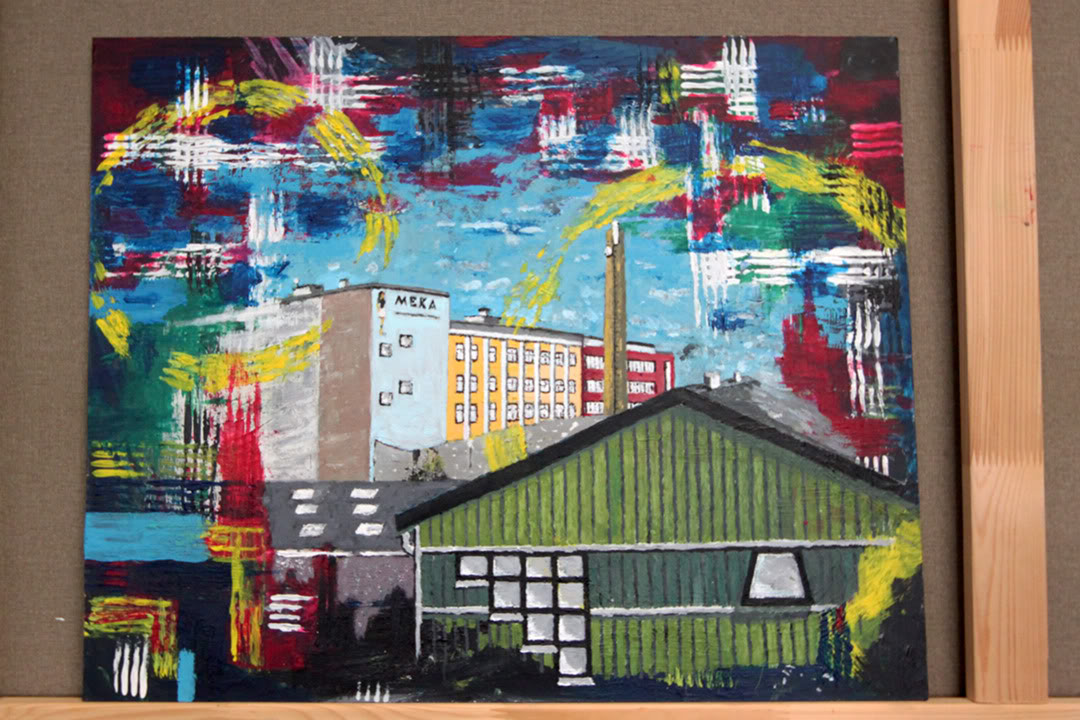 Untitled, WIP 26 hrs.
You may click all images to see larger versions.
From this point the photo shown in the previous post has been used as a partial reference. However, that photo is taken from a different angle than the painting, so it has a different perspective. It has only been used as reference for the foreground green building.
Here it is again, after a few hours more. Some changes had to be made to the foreground of the painting: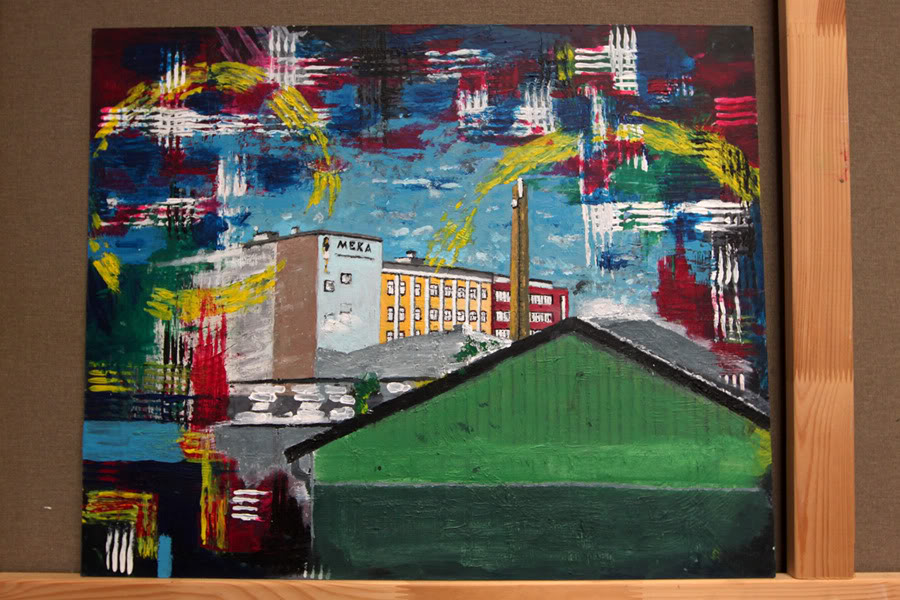 Untitled, WIP 30 hrs.
That's the backside of the coin when working entirely freehand (ie. without doing a sketch first) - if something has to be corrected in the process it may imply that a lot of extra work has to be done. So, even with more work hours added, it looks less finished.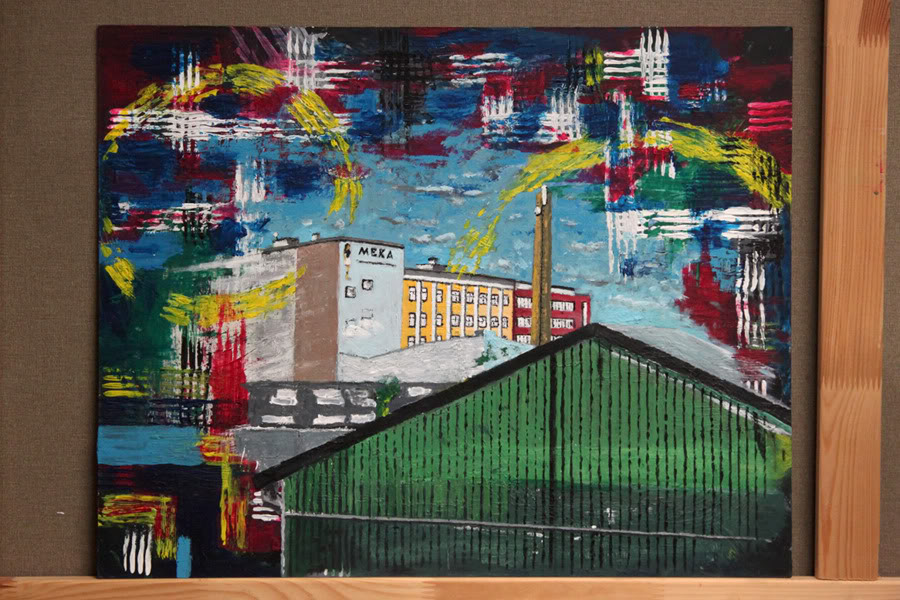 Untitled, WIP 34 hrs.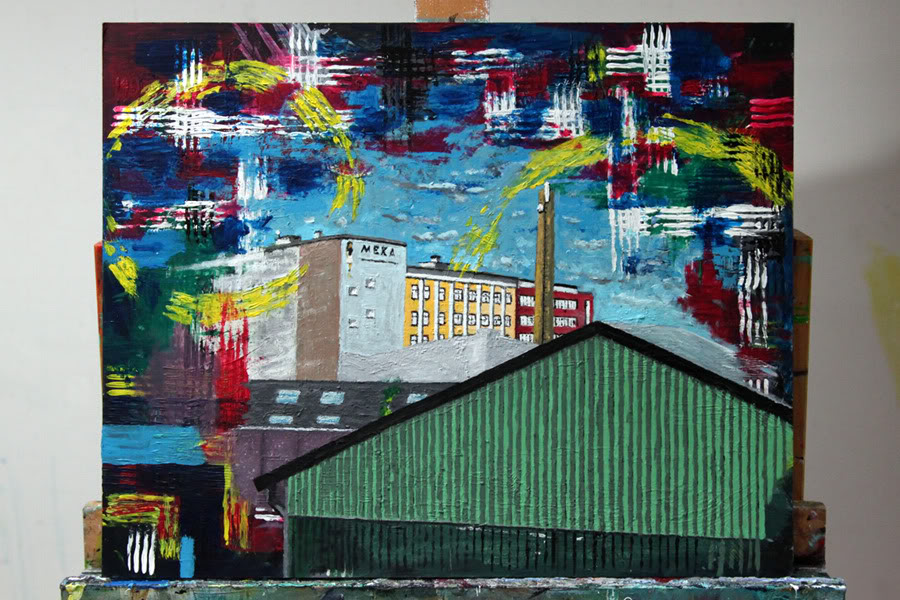 Untitled, WIP 38 hrs.
Update 2011.11.10: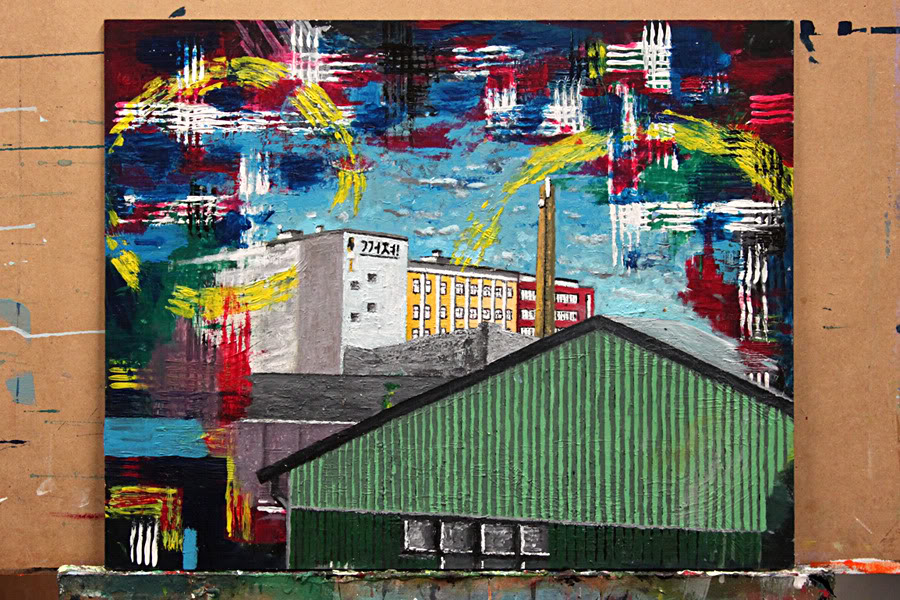 Untitled, WIP 42 hrs.
The commercial text on the wall has now changed from "MEKA" to a text in Korean. (a very unpolite way of saying "go away", like "f**k off"). This was not done to be offensive towards Koreans but instead because I think many commercials are offensive. To amplify this I turn the commercial language upside-down. And using Korean letters as it's a more graphical alphabet, very clear-written and modern. To most non-koreans this will look like any other commercial text, although they will not recognize the brand name. The former shop by the name of "MEKA" advertised here, has been shut down.
The view is from the painting studio at Kofoeds Skole.
Update 2011.11.17:
Mostly detail work this time, which means that it's hard to see what has changed.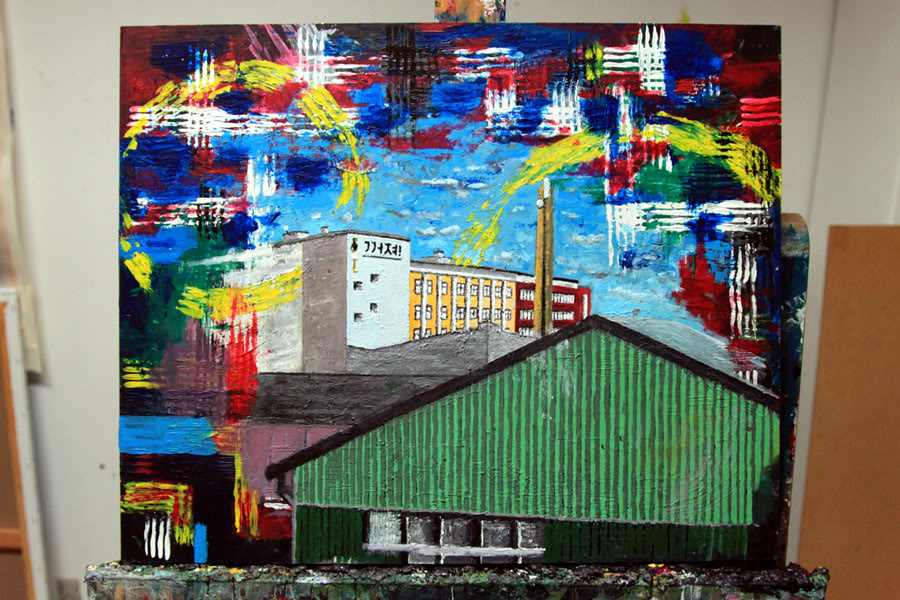 Untitled, WIP 46 hrs.
Update 2011.11.24: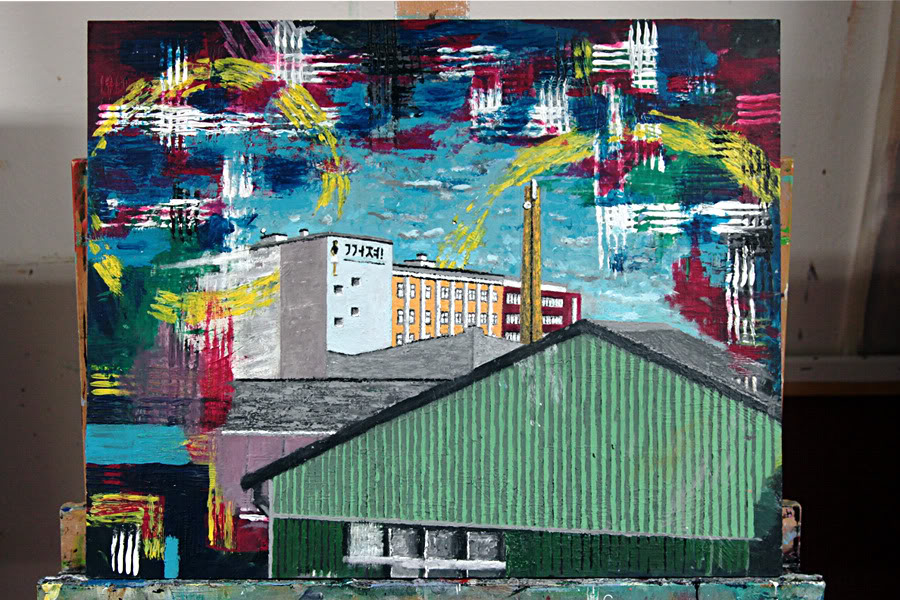 Untitled, WIP 50 hrs.
Update 2011.12.02: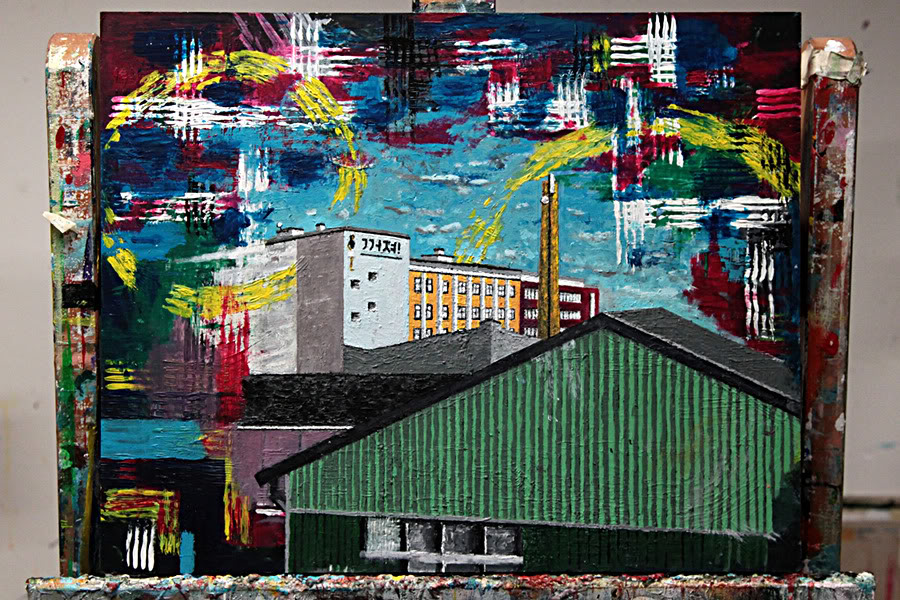 Untitled, WIP 54 hrs.
Update 2011.12.16: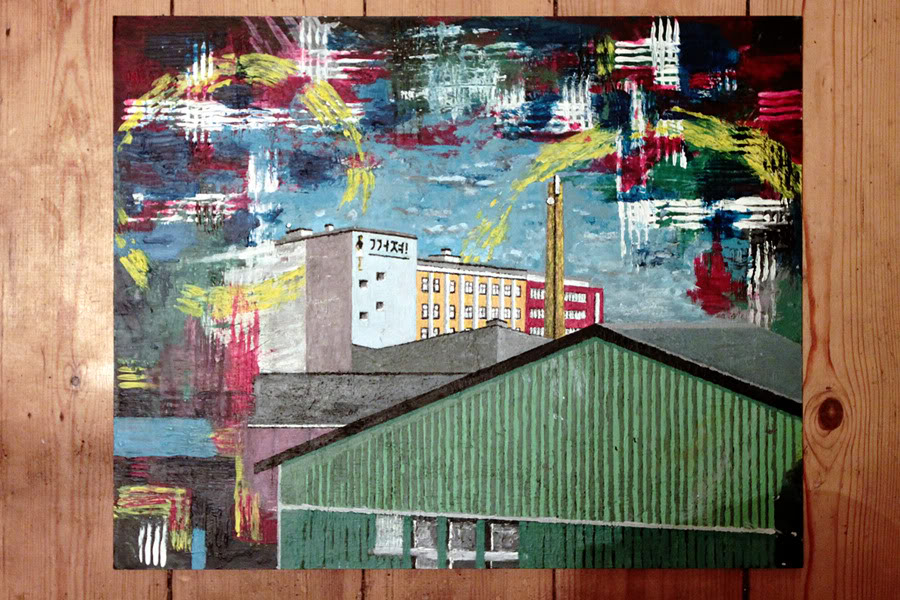 Untitled, WIP 58 hrs.
The last photo is a little bit unsharp.
This time I decided that the foreground building should adopt the perspective it has in the photo from part 1 of this post. So, I twisted it a little. Also, details, details, details...
Now all major lines and angles in the building section are more or less as they should be. Getting those right was the focus of the past 9 sessions.
It's getting winter here, which means that there's not even half as much daylight now as when the painting was started. So, future work will be based on reference photos for a while.
Sofar, it's been 15 sessions of 3-4 hours each in around 17-18 weeks. Total time spent is now a little less than 60 hours.
Read on in part three.
Please comment