Work In Progress: This is my longest running on-going photo series, started in April 2006. So far it covers 8 works with letters A to H.
A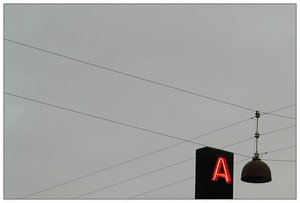 "A Lamp." May 2, 2006 (taken 2006-04-27 19:10:03)
The theme(s) of the series are: Typography, Geometry, Simplicity, Time, and Limitations (7 more photos after the jump.)
Book Update: 2010-10-04
The book project has been stopped due to lack of funding.
Questions & Answers
Please send questions and comments to me using the comment form below and I'll update the list.