Work In Progress: This is my longest running on-going photo series, started in April 2006. Sofar it covers 8 works with letters A to H.
A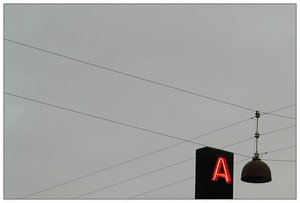 "A Lamp." May 2, 2006 (taken 2006-04-27 19:10:03)
The theme(s) of the series are: Typography, Geometry, Simplicity, Time, and Limitations (7 more photos after the jump.)
While some work is still going on on this site I've found a few interesting links to graffiti and street art related sites from around the world. Enjoy.
The book project has been stopped due to lack of funding. But of course I still shoot lots of graf and street art photos.
I've selected around 1,400 photos for the book and will narrow it down to some hundreds.
The book now has it's own flickr account: Book flickr.
Questions & Answers
Please send questions and comments to me using the comment form below and I'll update the list.