Monday. Mixed Media 2011.
The challenge for the exhibition "Picassos Venner" was to select one out of three specific Picasso paintings and make a mixed media interpretation of it. Here is my contribution: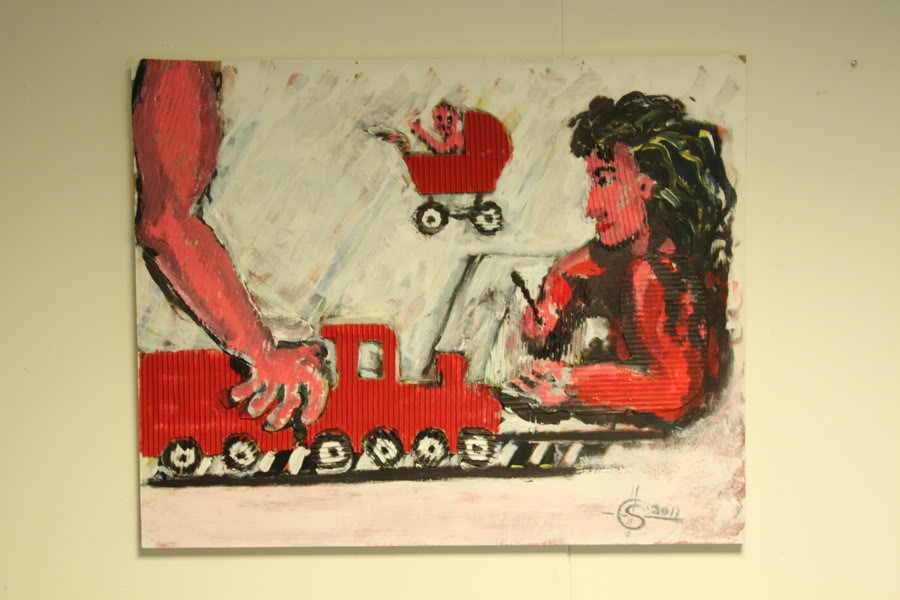 "Monday". Mixed Media, 2011: Acrylics and cardboard on masonite (60x75cm).
Read on...
This was interesting as this scene is very far from what I have previously done in drawing, painting, or photo. Here is the original: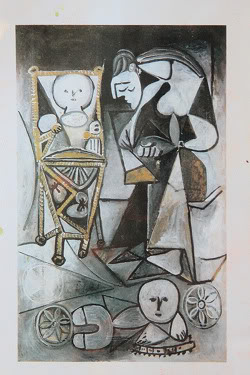 Picasso Painting. Title Unknown.
I wanted to leave the original scene and atmosphere unchanged, but update the visual language, or, to tell the same story in other words.
So, the scene is the same, the naivistic style is kept, and the geometrical principle of both paintings is the triangle. But I changed the format, the perspective, and the composition.
Also, the colour scheme and light is almost reversed, and the baby carriage and toy train are more recent versions (I suspect that the baby carriage in the Picasso painting was hand-painted). More similarities and differences can probably be found if you look for it :)
The painting was exhibited at the Copenhagen Town Hall in April 2011, along with lots of other painting and ceramics from Kofoeds Skole.
(Feel free to drop a comment if you know the title of the Picasso painting.)
Update 2012.09.06
My painting has now been "recycled", ie. it has been painted over in order to create a new and different painting. So, it does no longer exist.
Please comment