Woven Paintings (Solo Exhibition)
NOTE: THE EXHIBITION PERIOD HAS BEEN EXTENDED UNTIL FEBRUARY 4. 2023 !
Also: I'm available for personal inquiries, questions, comments etc at the gallery each tuesday at 2PM
English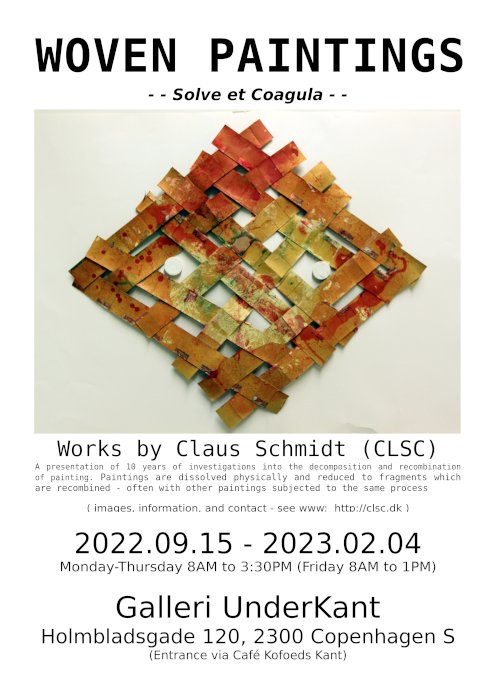 Exhibitions, Paintings: Solo exhibition:
September 15, 2022
to
February 4, 2023
The exhibition shows my full catalogue of woven paintings and striped paintings for the first and only time ever. Including a few items that are not for sale and are not likely to be exhibited again.
Please visit the exhibition at least twice (it is not a lightweight show)
<-- Click image for larger size
List of Works
List of works with dates, technique/materials, sizes, etc. (PDF, Engelsk).
Subtitle: "Solve et Coagula"
A presentation of 10 years of investigations into the decomposition and recombination of painting. Paintings are dissolved physically and reduced to fragments which are recombined - often with other paintings subject(ed) to the same process
These works are very tactile and will not appear right on a photo. The (often) battered and deteriorated surfaces means that they are extremely hard to capture. You will definitely feel an urge to touch in order to try to understand the nature of it all. For this reason almost all works will be unframed.
The subtitle is allegedly a phrase from Alchemy, it means "dissolve and recombine".
Here, it refers to the physical process of creating the works (examining and challenging the very nature of "painting") as well as the large(r) issues in life: (inter-) personal relations, physical and psychological states, the issues of "value", "being", "state" and "purpose", and not least the ubiquitous "memento mori".
Insofar as the nature of Contemporary Art can be said to be investigative, this is contemporary. Two-three works even have a very contemporary nature, but the majority of works deals with issues that are timeless and larger than life.
As per the time of writing around 80 works will be featured, mainly wowen paintings with a few examples of wowen photo, graphics and ... newspapers.
Download flyer
VIP shows
The Exhibition may be opened 1-2 saturdays for people that can't attend at ordinary opening hours. Watch this space.
Press, purchase, cooperation, contact, etc
You may contact me via email:

... or using phone: See the Contact Page .
Thank you for showing interest.
---
The comments field below will also work, and your comment will not be shown in public. You will have to answer a very simple math question before it will let you send a comment, but it is really easy.
Please comment